It's hot and humid this summer. Salads are refreshing and light to have for lunch!
I have compiled some of my favorites.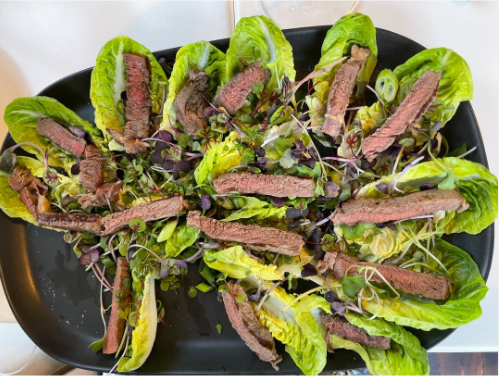 Use sirloin steak to make this one.
On the bbq or George foreman grill cook till medium rare
Slice and place on top of cos lettuce cups garnished with microgreens from Harris Farm
The magic ingredient is the horseradish- red and white, the brands is Eskal from Coles or Woolworths.
It is strong and just like wasabi.
The inspiration was taken from this book robata:
https://www.booktopia.com.au/robata-silla-bjerrum/book/9781911127345.html
This great-looking salad on the top of the page gives a pop of color and I found it in the Boun Riccordo Recipe Book.
1 Radicchio
1 fennel bulb
Parsley handful
1 tbsp extra virgin olive oil
1 tsp balsamic
Salt and ground pepper
Slice the fennel with a mandolin, break the radicchio leaves into pieces.
Chop the parsley.
Mix olive oil and balsamic and add to the salad, mix well, and season with salt and pepper.
Perfect as a side for summer dinners.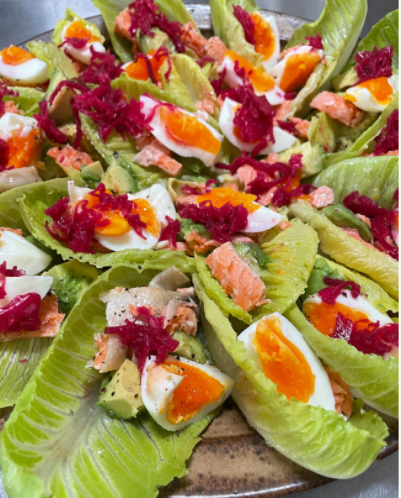 This protein packed salad is great for weight loss and getting your good fats and omega 3 in.
Eggs- cooked in 6 mins of boiling water. Run cold water over it after 6 mins
Cooked salmon
Baby lettuce
Avocado
Mix all ingredients together.
Add olive oil, salt and pepper to taste!
Hope you enjoyed these!