Often called "cold laser", low level laser therapy is a type of therapy that uses laser/LED light to alleviate pain and help the body tissue heal. This therapy focuses on treating the pain, not just covering it or making it more manageable. This procedure is painless, and unlike surgery, it is non-invasive. Patients experience few if any side effects, which makes it a popular alternative to other pain treatment options.
For more than 30 years, scientists have studied low level laser therapy, and their studies, reports and clinical trials show that this therapy is effective against pain and other medical conditions. Some studies concluded that low level laser therapy is as effective against anti-inflammatory drugs and have little or no side effects.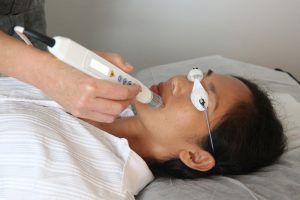 Low level laser therapy works by targeting the nerves in pain and blocking them. This reduces the inflammation around the affected area. Then, the laser light will be applied to the area to help the damaged or injured cells heal. The light goes beneath the skin's surface to target those cells, which will absorb the light and then convert it into energy or ATP. Once the ATP restores the cells, they will feel less oxidized stress and promote a healing response. After three or four treatments, your blood circulation will improve, and the inflammation will go down. Essentially, your body will begin the healing process.
What most low level laser therapy patients appreciate is that this treatment does not require any pain medication. You will not be dependent on a drug to complete simple tasks such as gardening or grocery shopping. With low level laser therapy, the laser goes directly to the source of your pain and treats it, not the symptoms.
For more questions please read our Laser Therapy FAQ. Eastern Therapies's staff is ready to assist you with your treatment. We can help you decide how best to treat you pain and how low level laser therapy might be the answer to a happier life. Get started at Eastern Therapies today and call 0400 331 321.
Disclaimer: Kindly note that results for clients may vary. The work I do is never in isolation; it is always a team effort which includes that clients work on their lifestyle choices, along with my treatment.