This delicious soup is the epitome of simplicity, warmth and flavor. Few ingredients are required, the process is relatively simple and it will allow you to serve up a hearty mid-week dinner in very little time and with minimal effort.
Cauliflower is such a versatile vegetable and when paired with the potato forms the body of the soup. The addition of the bacon elevates the soup with a subtle smokiness. Then all you need to finish is some sharp parmesan and cracked black pepper just before serving.
Winter is the perfect time to have a few delicious soups on high rotation!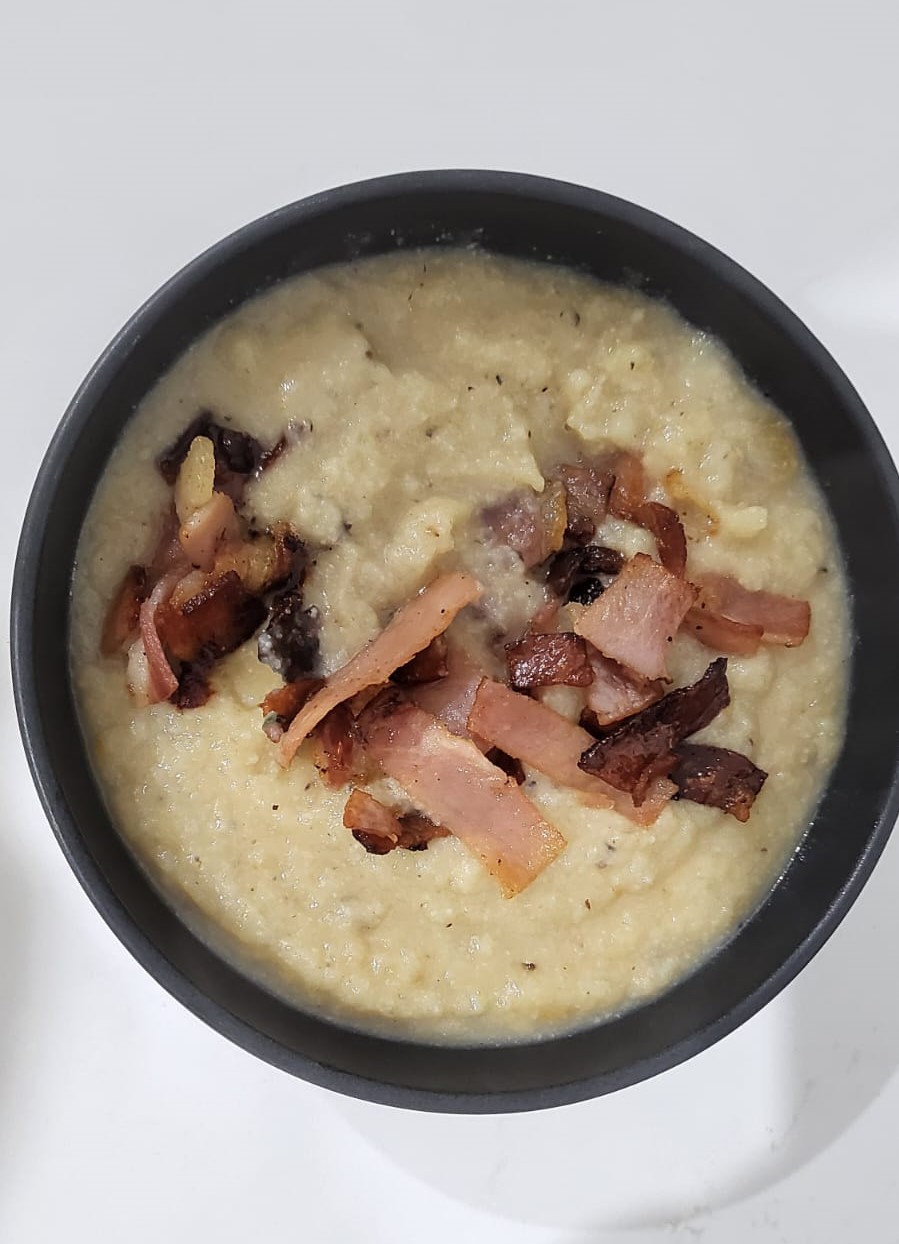 Ingredients
· 1 tbs. olive oil
· 250 gm smoked bacon rashers, finely chopped
· 1large onion, finely chopped
· ½ a large cauliflower, trimmed and cut into small florets
· 400 gm potatoes, peeled and chopped
· 1 sprig of rosemary, finely chopped
· 3 sprigs of thyme, leaves picked
· 6 cups chicken stock
· Sea salt & cracked black pepper to taste
· Grated parmesan to serve.
Method
1. Heat the oil in a large sauce pan over medium heat. Add the bacon and cook, stirring occasionally, for around 4 minutes until it's just crisp.
2. Transfer ¼ cup of the bacon onto paper towel and reserve for serving on top of the soup at the end.
3. Add the onion, thyme and rosemary to the remaining bacon and cook for a further 5 minutes, stirring as needed.
4. Add the cauliflower, potato and stock to a large pot and season with salt and pepper. Cover and bring to the boil.
5. Reduce the heat slightly and cook, stirring occasionally for 30 minutes until vegetables are tender.
6. Transfer the bacon and onion mixture to the vegetables and stock and stir through well.
7. Using a hand blender, blend the soup until it's nice and smooth. Keep the soup warm over low heat and ladle into bowls.
8. Sprinkle over the bacon pieces you set aside earlier, along with a generous amount of grated parmesan and plenty of cracked black pepper.
Option instead of thyme and Rosemary, you can use caraway seeds instead!
Enjoy!
Credits to @stone_and_twine