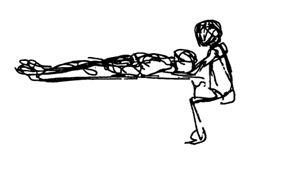 Zero Balancing is here at Eastern Therapies Dec 9th to 11th
with
Andy Kidd
 What is Zero Balancing?
Zero Balancing is hands-on, gentle yet powerful bodywork that aligns the deepest
structure of your body, while also restoring balance to your energy field.  It balances your skeleton in the way that
osteopathy aims to, but without the need of manipulation.
This suits people with any pain or discomfort, imperfect posture, or habitual
tension. After a session, people report experiencing a sense of comfort,
fluidity, integration and well-being.
How is Zero Balancing Performed?
Zero Balancing is received fully clothed lying on a table, with attention given to your
skeleton's foundation joints. It is comfortable and safe for everyone. It feels
deeply relaxing and nourishing.
Everything in your Zero Balancing session is designed to promote a maximum sense of
well-being. It is gentle and non-invasive, and afterwards many clients feel
lighter, with a spring in their step, and a deep sense of inner peace.
Why Zero Balancing?
The name derived from clients describing their
experience of being treated as being "balanced back to zero" – feeling
equilibrium. Developed by Dr. Fritz Smith, a gifted Doctor, Osteopath and
Master Acupuncturist in the 1970s, Zero Balancing originated as a synthesis of Western and Eastern medicine; it balances
both your body and your energy.
The Importance of Balance Between the Structural and Energy Bodies
Essentially, these two bodies work in concert with one another and with the external world,
yet function independently of each other. The structural body is what you can
see and touch – bone, soft tissue and all the body organs. The energy body is
the seen and unseen movement, including muscular movements, movement of tissue
fluids, cellular and molecular vibrations, movement within the body fields, and
movement of the life force itself. Your energy body directly affects, and in
large part is responsible for, your mood, emotions and vitality. Changes in
body energy and its fields usually precede illness and have a causal relation
to disease.
When structure and energy are balanced, dysfunctional habits, such as outmoded
emotional patterns and imprints from past traumas, tend to release. In
addition, you are able to function with relative ease, efficiency and comfort,
cope with life more constructively, and enjoy greater robust health.
50 minute sessions cost $120
At Eastern Therapies clinic, at Suite 4, 106 Ebley Street, Bondi Junction, NSW 2022

Please call Andy Kidd to make appointments, on 0432-214051 or email to heremoth@gmail.com