GREEN TEA MATCHA BALLS
Ingredients
140g almonds
140g cashews
280g medjool dates
40g chia seeds
80g desiccated coconut
70g coconut oil
1 tsp vanilla extract
1 tbs green tea matcha powder
Coating
Desiccated coconut, green tea matcha powder
Method
Place all ingredients (except coating) into a high speed processor and blend until combined.
In a separate bowl mix the coating ingredients together.
Roll mix into balls (it helps to have wet hands) and toss into the bowl to coat.
Makes around 20 balls. These keep in the fridge for around 2 weeks so they're great to keep on hand for a quick snack.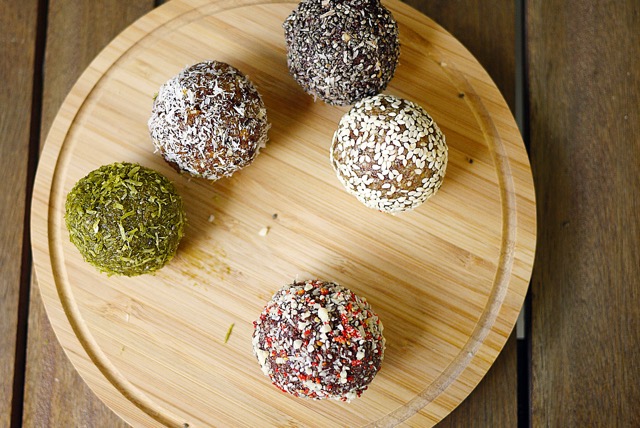 Hi I'm Jamie – I'm a Raw Food Chef, Graphic Designer and mum of two. I don't have any major intolerances in my family or any severe allergies – I am just your average everyday mum who is passionate about providing my children and family nourishing foods to help them grow. After having my first child I became increasingly frustrated by the lack of healthy and nutritious products on the market for children and for busy people. Almost everything seemed to have an additive, preservative, chemical or worse, a scary number or words that I could not even pronounce. This led me to rethink the way we ate as a family and I began stripping everything down to the bare basics and making as much as I could from scratch. Since then, I have seen huge improvements including weight loss, improved immunity and vitality, and healthier, happier children.
Since I was a child, I have had a massive sweet tooth so over the years I have been experimenting with different ways to make healthier treats. My love of sweet treats and my passion for wholefoods nudged me to create The Wholesome Pod. I wanted to create treats for people with no crap in them – just goodness. All my products are made with high quality organic ingredients that are prepared by hand (all by me!) and with lots of love. The product range includes raw products, paleo and vegan friendly products and fermented probiotic rich products. Plus they are all free from gluten, dairy, soy, egg, refined sugars, GMO's and preservatives.
Apart from creating delicious products, it is also my vision to create a loving and healthy community where we can educate each other and share information about the benefits of healthy eating and healthy lifestyle. I hope that by making one small change at a time I can help others make a lifestyle change for the better.
Jamie xo