Facial Rejuvenation Acupuncture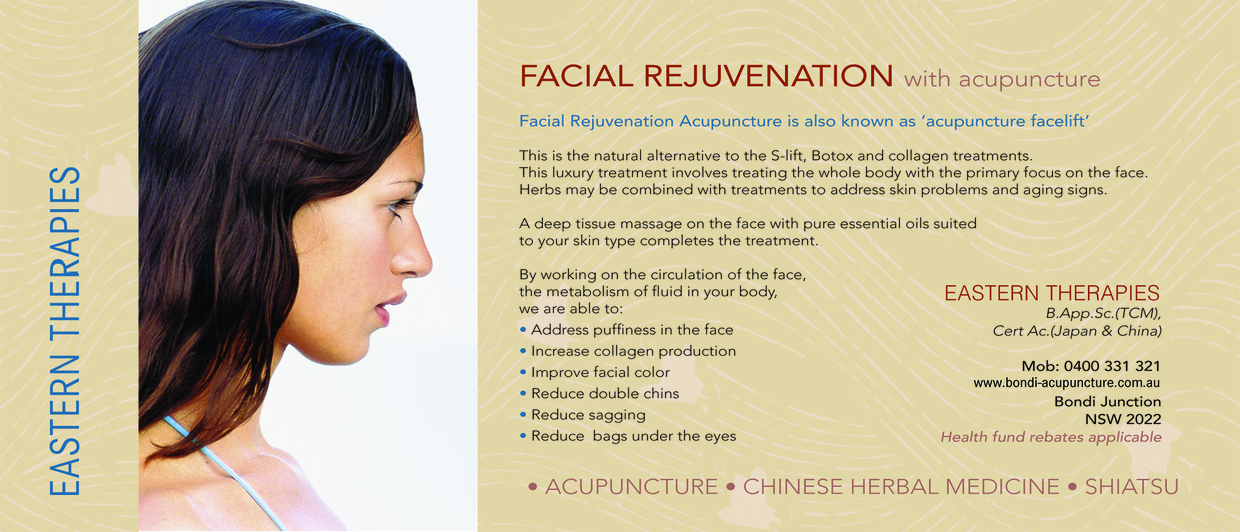 Turn a New Leaf With Facial Rejuvenation Acupuncture at our Bondi Junction Clinic
Has the stress of everyday life started to take its toll on your features? Do you look tired no matter how much sleep you get, or otherwise lack that healthy glow? Facial rejuvenation acupuncture could be the solution you've been searching for.
Sometimes known as cosmetic acupuncture or an acupuncture "facelift", this indulgent treatment actually treats the whole body as well as the face. Handpicked herbs may also be combined with the facial acupuncture treatment itself to address signs of ageing and other skin problems.
The facial rejuvenation acupuncture at our Bondi clinic is best spaced out across 6 treatments, with monthly maintenance treatments as well. Of course, personal results will vary, and some people may feel completely satisfied with the appearance of their skin after just a few sessions.
To find out more about our facial acupuncture at our Bondi Junction clinic, reach out to our team or continue reading the below.
Why consider facial rejuvenation acupuncture
Facial acupuncture can be incredibly useful at assisting the improvement of the skin's appearance and health. The process works by creating positive microtraumas across the skin, triggering the skin's self-repair mode. These punctures then stimulate your circulatory and lymphatic systems, delivering oxygen and nutrients to the skin. The fibroblast cells are activated contributing to the production of collagen. This improves your skin's natural glow, the brightness of your complexion, and the elasticity of your skin. Facial acupuncture has also been shown to:
Reduce facial puffiness

Reduce the appearance of double chin

Reduce sagging of the skin

Reduce bags under the eyes

Increase collagen production

Improve vitality of the complexion

Help to heal acne and acne scars
Of course, it's worth bearing in mind that facial acupuncture is not a quick-fix like more invasive treatments (think Botox and fillers). Instead, a series of treatments are carried out to create a gradual improvement in the appearance of the skin. All treatments are performed in a serene environment, adding to your overall rest and relaxation. This means even those who have never tried acupuncture before will feel completely at ease, drifting away into a blissful state while our expert acupuncturists work wonders for your skin.
If it's time to prioritise your wellbeing and the appearance of your skin, reach out to Eastern Therapies for our facial rejuvenation acupuncture in Bondi or to ask any questions about the treatment process.
Book a treatment with Eastern Therapies
In addition to facial rejuvenation, Bondi locals can also turn to Eastern Therapies for a variety of other herbal and acupuncture treatments. This includes women's overall health, IVF support, menopause acupuncture and sports therapy. Our treatments are carried out by seasoned traditional medicine practitioners and acupuncturists, with a holistic approach that encompasses hormones, pressure points, herbal medicine and more. Start your journey towards improved quality of life with Eastern Therapies today.
Disclaimer: Kindly note that results for clients may vary. The work I do is never in isolation; it is always a team effort which includes that clients work on their lifestyle choices, along with my treatment.