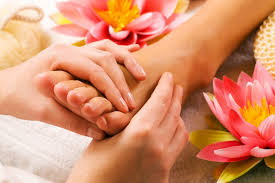 Feeling stressed out and in need of relaxation? Come and try reflexology with Hannah Hempenstall. Hannah is in the clinic every Tuesday from 10am to 8pm.

APRIL SPECIAL: 30 minutes $40 • 40 minutes $55 • 1 hour ONLY $75!
TESTIMONIAL from Emily Rose Yates, Naturopath
The purity of intention and warm healing energy that passes through Hannah's hands is profound. It not only felt like my feet were basked in love, it was like a deep healing was occurring in all parts of my body.
It provided me the space to drop deep into a meditative state and truly connect back into myself and the baby I am holding within me. Your treatments are FAR from any reflexology treatment I have experienced in the past, you are a TRUE HEALER in every way and the feedback after the treatment was profoundly useful and accurate as to where my body was at.
I can't thank you enough for your purity, care, warmth and commitment to healing, you are the real deal.

Come and try reflexology with Hannah during April! Health Fund rebates available.
Call 0450 288244 | hannahhempenstall.com