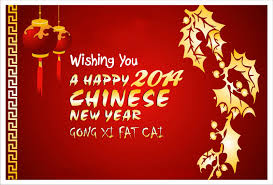 Happy Chinese New Year to you all! Kung Hei Fat Choy!
 As we leave the year of the Water Snake, we welcome the Wood Horse in 2014. For those who felt this last year a little tough going… this year will be lighter for all concerned!
The Horse is full of fire yang energy which will give us the vitality, the go-forth, and optimism. Qualities of the Horse which the Chinese endear themselves includes the Horse's constant pursuit for self-improvement, their physical ability to travel long distances as well as be trained to be disciplined, thus given direction. The Horse is also sociable creature who is highly intelligent and historically has helped humans to win battles. One of the downsides of the Horse is their nature to "show-off" or be a "show pony" and be directionless if not disciplined. The Wood element is expansive, dynamic, kind and benevolent, so human kindness will be a running theme this year.
Throughout this year of the Wood Horse, we should come to expect changes or shifts surrounding our environments and ourselves. Events and/or situations will come and go very quickly whether they are positive or not. Thus we should be paying attention to the world around us, our country, local area, family and friends, in essence, everybody. Being in the Wood element, we should be noting how we can be more empathetic towards ourselves and the world and how can we improve each time.
In health, the Horse is associated with the cardiovascular system which includes the heart, lungs and blood. Horses like to run free, exercise, good healthy meals and plenty of rest is very important. So when you are stressed go and do some exercise!
2014 will be an adventurous time for all of us. During this time, looking after oneself physically is imperative. Expect big and little shifts around us. The Horse is a sociable creature who always wants to improve themselves; we should also aim to always self-improve whatever goals we choose to achieve and combining with the Wood aspect, we should be more benevolent and kind to one another and most importantly to ourselves.
Reference:
http://www.futurescopes.com/chinese-astrology-zodiac-signs/horse/8488/wood-horse-chinese-astrology
http://www.chinesefortunecalendar.com/2014/2014Zodiac.htm
https://senn.cocoloni.com/chinese-zodiac/2014-predictions/overall-forecast/
http://books.google.com.au/books?id=zcMpAAAAQBAJ&printsec=frontcover&dq=the+web+that+has+no+weaver&hl=en&sa=X&ei=X0nTUt6BJsK4lQWw2ID4Bg&ved=0CDsQ6AEwAA#v=snippet&q=hun&f=false