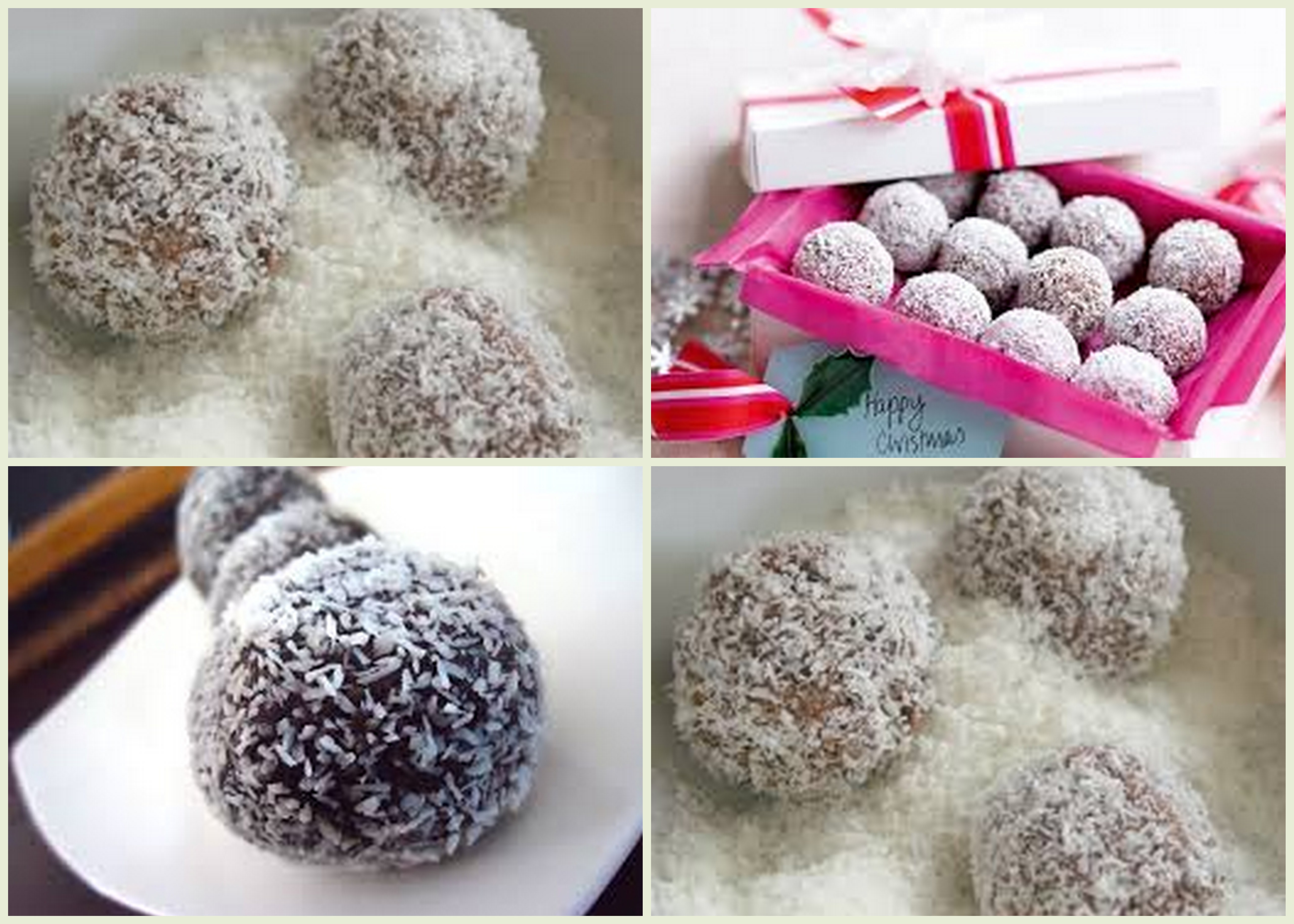 Super yummy chocolate coconut balls are an easy sweet treat. These will store for weeks in your fridge, though they never last that long. Raw cacao is a highly nutritious superfood high in magnesium, antioxidants, and theobromine, an alkaloid that increases positive feelings and energy.
Original version above in the link however I modified it below so that it was luxuriously creamy & nut free:
Ingredients:
2.5 c coconut, fine, desiccated (or I used the young flesh of 2 coconuts! Plus added only half the amount of coconut (or less) into mixture!)
1.5 c. raw cacao powder
 2 c. fresh dates
1/3 c. raw coconut oil & cacao butter (I used 1/4 c cacao butter then added in enough coconut oil to make 1/3 c.)
1 tsp. vanilla powder
Instructions:
Scrape out 2 young coconuts for flesh & whiz up. If you don't have the fresh stuff just use the shredded or desiccated coconut
Blend in dates.
If the coconut oil is solid, put jar into bowl of warm water until oil is liquid. Melt cocoa butter & add both into blender. Add in vanilla essence.
Add cacao powder & more desiccated coconut gradually to suit your taste buds! Don't overdo cacao powder or desiccated coconut, I found I did not need it all!
Mix all ingredients together until well incorporated.
Grease a baking tray with coconut oil. Press the mixture in till flat about 2cm high. Refrigerate till solid.
Take out & slice into cubes 2cm b7 2cm & form into a ball with your hands. Roll in desiccated coconut.
Chill the formed balls until ready to serve.
Also can be pressed into a pan greased with coconut oil and cut into squares to eat when chilled, for an even faster treat.