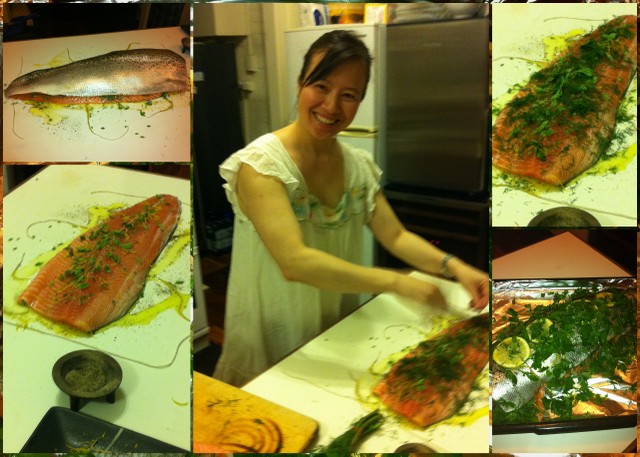 Ingredients
Sea salt and freshly ground black pepper
2 medium salmon fillets, about 2 1/2 pounds (1.1 kilograms) skin on, scaled and pinboned
2 lemons
Bunch fresh marjoram
Bunch fresh dill
Bunch fresh basil
Handful stoned black olives
Bunch flat-leaf parsley
Directions:
Preheat the oven to 400 degrees F (200 degrees C/gas 6).
Cut 5 lengths of string and lay them out on the work surface next to each another, leaving gaps in between. Sprinkle salt and pepper over the work surface, and drizzle with olive oil. Lay 1 salmon fillet, skin side down, on top. Sprinkle salt and pepper over the salmon, then, using a fine grater, grate the zest of 1 lemon over the top. On top of that lay the marjoram, dill, and basil, broken up, and the olives.
Season the flesh side of the other salmon fillet with salt and pepper, and grate over the second lemon. Place 1 fillet on top of the other, thin end to thick, then tie them together and trim the string. Put the fish parcel on an oiled baking tray, and scatter over any remaining bits of herb. Thinly slice the 2 lemons and place on top of and round the salmon. Drizzle with olive oil, then roughly chop the parsley and sprinkle over the top.
Bake in the preheated oven for about 20 minutes.