Houng Lau
Houng started her career in health in 1996, running a successful shiatsu and massage therapy practise.   In 2004, Houng Lau graduated from  the University of Western Sydney, where she received her bachelor's degree in Applied Science for Traditional Chinese Medicine. Houng has studied in China at Nanjing Hospital of Chinese Medicine.   Houng regularly travels the world to attend acupuncture conferences to to study with the best teachers and learn new treatment techniques.  Houng  is determined to ensure her skills remain cutting edge and she constantly challenges herself to learn and better herself in order to help her patients.   Houng's treatments are based on  meridian style  Japanese acupuncture and has visited Japan on many occassions for advanced training by studying with Mazakazu Ikeda, her teacher. This style of treatment provides the most effective results with little discomfort.   Houng has a special interest in treatments for children (having treated children as young as 3 weeks old), health for women, and infertility, IVF acupuncture for women as well as men. She is passionate about educating the community on the effectiveness of natural health treatments.   She has provided help during the birthing process for women, trained midwives at POW and has instructed at pre-natal classes, teaching how to reduce labor pain using acupressure. Houng volunteered for a Ubud, Bali, non-profit organization in 2007, where she helped in delivering a baby, as well as gave acupuncture to women and children.   She has experience in customizing specialized treatments to help women give birth as close to their due dates as possible, and inducing labor for those that are overdue.   Over the years she has trained and  mentored many graduates and passes on the deep knowledge that is shared to her by her teachers. In her spare time Houng loves to cook and entertain, attend dance classes and train outdoors.    
Peter Scarselletti
Peter's main focus in practice is wellness care, chronic intractable disease management, fertility, paediatrics, and educating his clients so that they may learn to prevent illness by lifestyle and dietary regulation.   Since finishing his degree in 2004, Peter has studied many systems of acupuncture and meridian therapy, and has been most strongly influenced by a variety of styles of Japanese acupuncture, classical and contemporary Chinese acupuncture, and collectively, their many interpretations of classical Chinese Medicine literature. He also has a strong focus on the integration of acupuncture with the Chakra system.   Peter also has extensive knowledge and expertise with Classical and Contemporary Chinese Herbal Medicine Prescription and the usage of dietary modification and supplementation, as well as contemporary physical and energetic detoxification protocols. Tailoring treatments for each person based on this unique level of expertise allows Peter to maximise his clients' potential for healing.   Peter has travelled to various cities of the world to further his studies, and to gather new knowledge and skills in unique healing techniques in order to provide the most complete and effective healing strategies for his clients, and fulfil his passion for continual personal and professional development.   In June/July 2014 Peter volunteerd for 1 month as an Acupuncturist and Mentor at Vajra Varahi Healthcare in Chapagaun, Nepal, treating up to 100 patients per week and providing training for the staff at a natural medicine health clinic constructed on the grounds of a Vajrayāna Buddhist Monastery.In recent years   Peter has organised courses and seminars with international presenters to assist in raising the standard of skills of the Acupuncture and Chinese Medicine profession in Australia. This has also given Peter the unique opportunity to train with, and spend time with some of the world's most respected teachers and masters in our field.   In his spare time, apart from spending time enjoying good food with family and friends, Peter focuses on his development in martial arts, internal energy cultivation techniques, breath work and meditation, as well as continual study in the fields of BioGeometry, Vibrational Radiesthesia, Pranic Healing and Esoteric Sciences. These endeavours also uniquely inform his skillsets in clinical practice.    
Lucien Jankelson
Lucien has always had an interest in health and healing. He was first inspired by the benefits of acupuncture at a young age when he received great relief from medically inexplicable digestive pain.
He believes in the significant contribution that Chinese medicine makes both as a stand alone therapeutic practice and as a complementary form of practice.
Lucien truly cares, and is committed to making a positive impact on each of his patients' health. He views health holistically, and believes in the undeniable connection of mind and body. With each person's issues, he will draw on evidence based practices in order to achieve the best results.
Lucien is able to treat a broad range of health issues. As a Chinese Medicine practitioner, he will identify patterns of disharmony within a person and aim to resolve them. He is thereby supporting the patient's innate healing and ability to return to wellness.
Recently Lucien has been furthering his studies, learning Japanese acupuncture, and incorporating it to develop his own unique style.
Lucien qualified from UTS, is a member of AHPRA and ACMAA and has full medical indemnity. Treatments are claimable through Health Funds and are of the highest quality.
Jamie Allan
Jamie's practice has evolved with a focus on Japanese Acupuncture and Moxibustion after being introduced by Houng Lau to Ikeda Masakazu's  work over  3 years ago.
Since then he has been working at Eastern Therapies with yearly trips to Japan to further his knowledge.
Sally Chilvers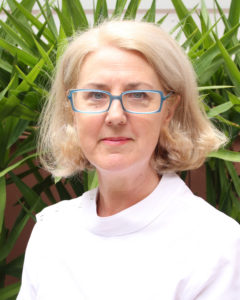 Sally (B. Hlth Science TCM (UTS) completed her Bachelor of Health Science in Traditional Chinese Medicine at the University of Technology, Sydney. Her area of particular interest was the management of common symptoms of Multiple Sclerosis such as fatigue, anxiety, depression, muscle weakness and pain. She has also studied in China, completing an internship at the Teaching Hospital of Chengdu University of Traditional Chinese Medicine.
Sally first observed the gentle yet highly effective methods practiced in Japanese acupuncture whilst studying as an intern with Houng Lau in 2013. Since then she has pursued a deeper understanding of Classical Japanese acupuncture and moxibustion, studying Channel Palpation at Dr Wang Ju-Yi's Research Centre in Beijing and in London with the renowned Japanese Master Ikeda Masakazu.
"Over the past fifteen years, I have seen how effective acupuncture, moxibustion and herbal medicine can be in helping people to achieve a better quality of life, especially for those living with debilitating symptoms often associated with chronic disease. Classical Japanese and Chinese medicine descend from the same ancient roots, the application of this holistic style of medicine, integrated with a solid background in Western physiology, achieves wonderful results for our patients across a wide range of ailments".
In her free time Sally loves to kayak, swim, read and practice yin yoga.
Sally is registered with the Chinese Medicine Board of Australia and is a member of the Australian Acupuncture and Chinese Medicine Association.