Success Stories: Pain Management
Osteoarthritis in Knees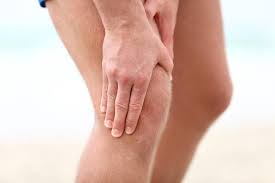 Over a number of years our patient had noticed increasing swelling and loss of stability in the knee joint. Like a lot of people who love running through adult life and into their 40's, she was diagnosed with a degenerative joint disease known as osteoarthritis. She came to see us after experiencing lateral and medial knee pain as well as swelling, worse with running and exercise (which she loves!). Osteoarthritis is due to accumulated wear and tear of the articular surfaces in joints (usually the cartilage) and tends to occur in weight-bearing joints such as the lumbar region, hips, knees and is aggravated by long-term repetitive strain, excessive load and obesity. Common recommended treatments include gentle exercise, lifestyle advice, pool therapy, acupuncture and massage to increase range of motion and reduce contracture, heat pads, knee supports and weight control as well as drug therapy to reduce pain, swelling and inflammation in the joint.
Our patient came weekly for acupuncture and moxibustion treatment to reduce knee pain and swelling and to maximise joint stability during exercise. After three treatments including constitutional acupuncture and the use of specialised needling techniques and moxibustion therapy at the local site of pain and swelling around the joint the patient was pain free when running and the knee felt stronger and more stable during exercise. Acupuncture and moxibustion are both recognised in the medical literature as effective at reducing pain and swelling for osteoarthritis not just of the knee, but in other joints including the wrists, hands, hips and spine.
Back Pain – Not Coming Back
It is common for people to experience back pain as they get older.
Recently, a sixty-four year old retired man came to our clinic. He had been experiencing lower back pain for a period of three months.
He had been taking anti-inflammatories to deal with the pain, however it still persisted. The pain was a combination of dull ache and sharp pain which was often worse in the morning. The man was a keen golf player and the pain had impacted his ability to play as it was particularly pronounced when turning and swinging.
After only two treatments, the pain had subsided in the morning and he was able to play golf without experiencing as much pain. After his third treatment, he was without pain for five days and was even able to go away for a golf trip!
He now comes in only once a month for a tune up and his life has returned to normal.
Foot Injury – Last Resort!
A fifty year old woman who had suffered a foot injury came to us seeking treatment after having tried a number of other therapies, none of which had helped. The pain resulting from the injury had been ongoing for eight months and had progressively become chronic in nature. She was experiencing pain on the second metatarsal, particularly when walking. There were also calluses under her foot and some tightness on the plantar and arch of the foot. After five treatments, the pain had been reduced by 30%. We were able to refer her to a sports podiatrist for further treatment.
Solution for Sciatica
A twenty-six year old woman who had been experiencing sciatic pain for six months came to us seeking help for her condition. The young woman was seeing a physiotherapist regularly which had helped to a degree, but the pain persisted. She was experiencing pain predominantly down her left leg; however it was sometimes present in her right leg also.
She received treatment once a week for seven weeks. After only the third session, the pain subsided for three days, which was unprecedented in her experience. The pain returned, especially after sitting for long hours; however it had been significantly reduced.
After her last treatment, there were marked reductions in the pain she was experiencing and there is hope that over time she will improve considerably.
Disclaimer: Kindly note that results for clients may vary. The work I do is never in isolation; it is always a team effort which includes that clients work on their lifestyle choices, along with my treatment.